Sliding Rock
DO This.
Sliding rock is an almost gentle waterfall that you slide down. It's really fun. It is slide at your own risk but there are lifeguards too. The water is very cold and the hardest part is the impact into the pool. The water is 50 degrees. Breath=away.
There is a cash parking fee of roughly $3, then you walk to the fall. It is an attraction but the lines move quickly enough. You will want water shoes and a change of clothes, perhaps some extra towels if you stand around.
You will slide down a smooth rock, but it's still a rock and it will tear up a delicate bathing suit. Cutoff's work great.
Near sliding rock are some awesome waterfalls you can also play in.
Looking Glass Falls is great and less than a mile away.
Get there: Option 1
To get to sliding rock, your GPS will probably tell you to go through the Dupont Forest on NC 276. This is amazing but very twisty and one lane. Bring your Seabands!
Here's a little video of what going down Sliding Rock looks like. But a video can't describe the impact into 52 degree water feels like!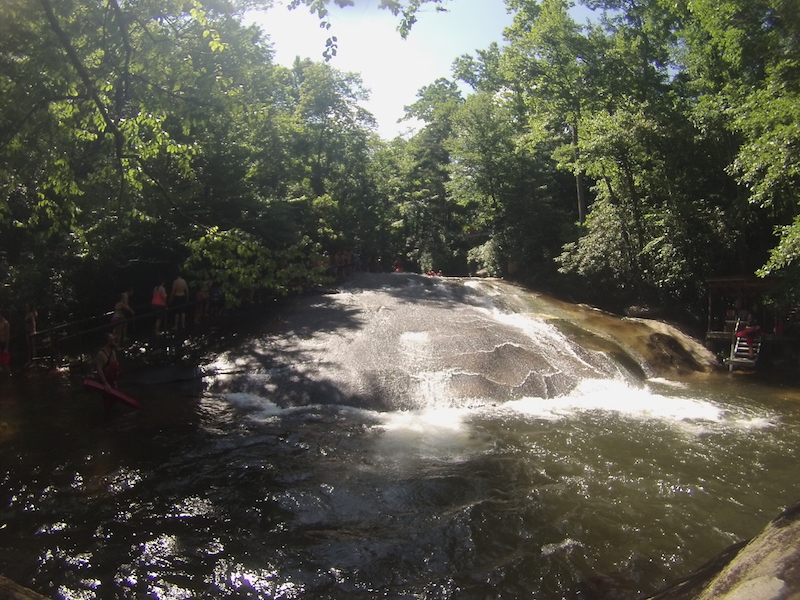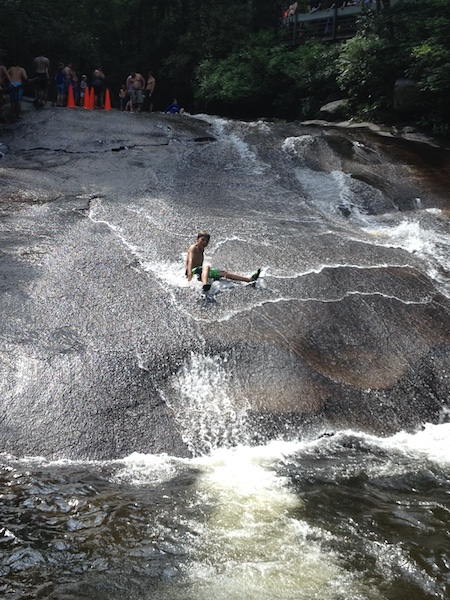 Here's the map through the forest to Sliding Rock
Option 2: Longer but straighter roads
As an alternative, you can take more interstates. Google says it's an entire hour longer but this is the way we went and it was great.
Here's that map:
Sliding Rock Info Website
http://www.ncwaterfalls.com/sliding_rock1.htm
---
Looking Glass Falls is just south of Sliding Rock.
You can play in the water here too.
The google map is crazy on this but if you take a right out of Sliding Rock parking lot, it's about 2 miles south. You can see both on the map below.
You will easily find it by all the cars parked on the side of the road. Join the masses and at least have a look.
You can keep going south on this road for the Option 2 route home above.
Looking Glass Falls Pictures